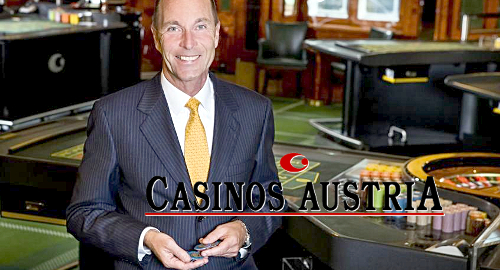 Casinos Austria is shaking up its senior management ranks as director-general Alexander Labak heads for the exits.
On Tuesday, Casinos Austria announced that Labak would be leaving the company when his current contract expires at the end of 2019. Labak will "continue to work actively" to ensure Casinos Austria goes on making scads of money but the company will "immediately" commence the hunt for his replacement.
Labak was only appointed to his current position a little over a year ago, but he never seems to have fit in. News of his exit comes just a couple weeks after he sent a letter to the board of directors suggesting there were "indications of maladministration" within the company that "raise the fear that the well-being of the enterprise is massively endangered."
Labak's letter also mentioned his "suspicion of breach of confidentiality obligations" by two members of the board who he believed were creating "power structures" within the company in order to engineer his ouster. (If nothing else, Labak can't say he didn't see it coming.)
The shortlist to replace Labak includes fellow board members Bettina Glatz Kremsner and Dietmar Hoscher, both of whose contracts are also set to expire at the end of 2019.
Labak is only one piece of the executive shuffling. As of October 1, Christian Schütz will surrender oversight of the company's 12 domestic gaming venues in favor of the dynamic duo of former Casino Vienna CEO Reinhard Deiring and former head of investment management Christian Lang. Schütz isn't leaving the fold, and will assume unspecified new responsibilities within the group.
Plans are afoot for a new marketing campaign to reinvigorate the Austrian business, with a particular emphasis put on reaching customers through digital media channels. The GGK Mullenlowe agency has been tapped to shape this new campaign.
The Casinos Austria International (CAI) business – which was up for sale last year until management rethought the concept this spring – will now be ruled by executive director Christoph Zurucker-Burda and Swiss division chief Helmut Wede.
CAI, which operates 29 gaming venues and networks of video lottery terminals in countries around the globe, reported revenue rising 17.6% to €73m in the first half of 2018, while operating profit was up 14% to €5.8m and net profit nearly doubled to €2.4m.
Casinos Austria's domestic casinos reported revenue of €330m in 2017, a mere 1% gain year-on-year. Casinos Austria's group operations include Austrian Lotteries GmbH (2017 sales of €3.5b), the Win2day online gambling platform, the Tipp3 sports betting business and the WinWin VLT business.
The post Casinos Austria bids buh-bye to embattled leader Alex Labak appeared first on CalvinAyre.com.